MS Pacific was een cruiseschip dat eigendom was van en beheerd werd door het in Brazilië gevestigde Viagens CVC. Ze werd in 1971 gebouwd voor Flagship Cruises door het bedrijf Nordseewerke in Emden, West-Duitsland, en kreeg de naam Sea Venture. Ze verzorgde cruises tussen de Verenigde Staten en Bermuda, die in 1609 door de overlevenden van het wrak van de oorspronkelijke Sea Venture waren geregeld. Tussen 1975 en 2002 voer ze als Pacific Princess voor Princess Cruises en werd beroemd vanwege haar verschijning in de romantische komedie-anthologie Tv-serie The Love Boat, uitgezonden van 1977 tot 1986, samen met verschillende later gemaakte tv-films met hetzelfde thema.
In 2008 werd Pacific gecharterd door de nieuw opgerichte Quail Cruises om cruises vanuit Valencia, Spanje, uit te voeren, maar werd uit dienst genomen toen renovatiewerkzaamheden duurder bleken dan verwacht, en in 2012 verkocht aan een bedrijf dat gespecialiseerd is in schepen sloopen. Nadat die verkoop mislukte, bleef ze lange tijd in Genua liggen voordat ze naar Aliağa werd gesleept, waar ze op 6 augustus 2013 arriveerde om te worden gesloopt. Voordat ze werd ontmanteld, op 10 augustus 2013, was er een dodelijk ongeval waarbij er een overstroming was in het compartiment onder de motoren. Terwijl elektrische pompen in bedrijf waren, werden twee mannen gedood en negen gewond door giftige uitlaatgassen.
Het schip begon in 1971 met Flagship Cruises, onder de naam Sea Venture. In april 1975 werd ze samen met het zusterschip Island Venture verkocht aan P & O's nieuw verworvenPrincess Cruises. Het paar werd omgedoopt tot Pacific Princess en Island Princess.
Als Sea Venture kwam de Pacific Princess Cunard's Queen Elizabeth 2 te hulp, nadat deze grote motorproblemen had. [Nodig citaat]
Princess Cruises stemde ermee in om hun cruiseschepen te laten zien in de romantische komedie-anthologiereeks The Love Boat, die in 1976 debuteerde als een tv-film en als een reguliere show in 1977. Het schip kwam voor in bijna elke aflevering van de serie ( die voornamelijk werd gefilmd op sets in een productiestudio) was Pacific Princess, hoewel er ook andere schepen verschenen, waaronder Island Princess. De term "Love Boat" werd veel gebruikt door Princess Cruises in hun marketing en werd synoniem met Pacific Princess. Het succes van de up-beat televisieshow, die tot 1987 in de lucht bleef, wordt grotendeels toegeschreven aan de toenemende populariteit van cruiseschipreizen in Noord-Amerika.
In 1998 werd Pacific Princess door de politie in Piraeus, Griekenland in beslag genomen nadat 25 kg heroïne aan boord was gevonden, gesmokkeld door Filippijnse bemanningsleden. Volgens politiebronnen die destijds in het BBC-rapport werden geciteerd, was er bewijs dat het schip een belangrijk instrument was geworden voor drugssmokkelaars in de Middellandse Zee.
Pacific legde op nadat het in beslag was genomen door de Italiaanse autoriteiten vanwege een mislukte veiligheidstest.
Pacific Princess werd verkocht in 2001, maar werd terug verhuurd en bleef tot 2002 deel uitmaken van de Princess-vloot, toen de voormalige Renaissance Cruises R3 haar verving en haar naam aannam.
Pacific Princess maakte haar laatste reis met Princess Cruises in oktober / november 2002, varend van New York City naar Rome, Italië. Vervolgens begon ze te varen voor Pullmantur Cruises in Spanje als Pacific, zeilen in het Caribisch gebied. Pacific werd later gecharterd en beheerd door CVC in Brazilië tijdens de zuidelijke zomer en door Quail Cruises in Spanje tijdens de noordelijke zomer.
Pacific werd in 2008 in beslag genomen door de Italiaanse kustwacht voor een reparatiewet van haar voormalige eigenaren Templeton International Inc. aan de scheepswerf San Giorgio del Porto in Genua. Quail Cruises beweerde dat de schuld veel lager was dan aanvankelijk was gemeld en niets te maken had met de huidige operators van het schip.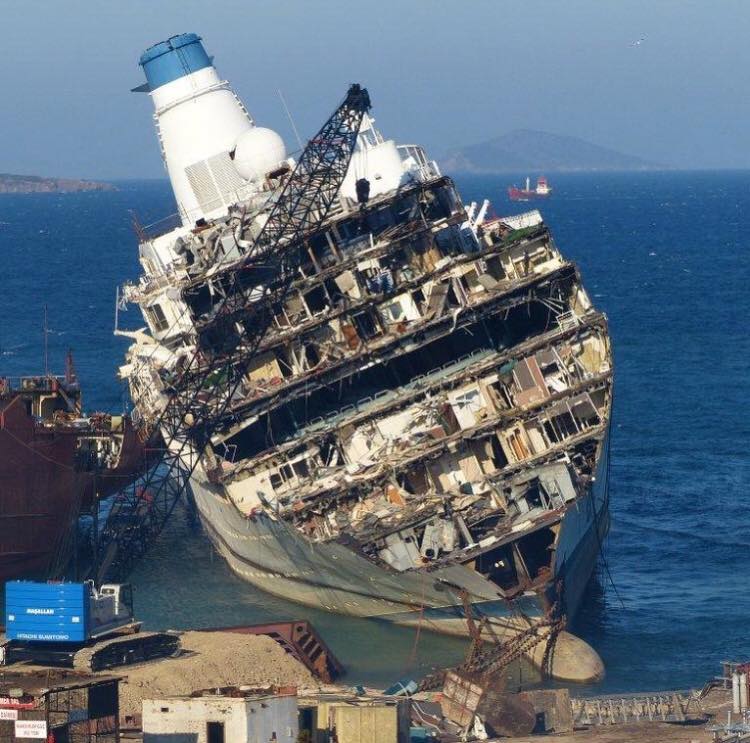 Om aan de schuld te voldoen, hebben de Italiaanse autoriteiten tussen 2010 en 2011 driemaal geprobeerd Pacific op een veiling te verkopen, maar werden geen biedingen ontvangen. In maart 2012 werd het schip voor € 2,5 miljoen verkocht aan een schipbreukbedrijf, Cemsan Ship Breaker uit Izmir, Turkije, maar Cemsan kwam in gebreke met betaling en in mei 2012 ging het schip opnieuw te koop. Pacific Princess bleef enkele maanden in Genua liggen,  maar op 27 juli 2013 werd gemeld dat het schip op sleeptouw was voor sloop.  Op 6 augustus 2013 arriveerde ze in Aliağa om te worden ontmanteld door de Izmir Ship Recycling Company, die haar voor € 2,5 miljoen heeft verworven. Op 10 augustus 2013 stierven twee werknemers die het schip ontmantelden door het inademen van giftige dampen, en nog eens tien anderen werden in het ziekenhuis opgenomen. In februari 2014 was het schip "half tot tweederde verdwenen". Eind 2014 was ze helemaal weg.
Pacific was 168,8 m lang, met een breedte van 24,7 m en werd gebouwd in Nordseewerke, West-Duitsland. Ze werd aangedreven door vier Fiat Diesel-motoren met gemiddelde snelheid en een gecombineerd vermogen van 18.000 pk. De motoren waren afzonderlijk gekoppeld en in paren afgestemd op elk van de hij twee assen die schroeven met regelbare spoed aandrijven. Hierdoor konden een of meer motoren worden uitgeschakeld en indien nodig ontkoppeld. Als Pacific Princess was haar tonnage 20.636 GT en vervoerde ze 646 passagiers met een topsnelheid van 21,5 knopen (39,8 km / h; 24,7 mph), met een snelheid van 20 knopen (37 km / h; 23 mph). Als Pacific werd haar capaciteit verhoogd tot 780 passagiers en de kruissnelheid verlaagd tot 18 knopen. Land van registratie was de Bahama's.